Fish
LIKE A
PRO
Tackle, rods, and reels selected by anglers for anglers
Visit the store to browse our selection of your favorite fishing tackle including ProX Outfitters' own line of custom lures.
PROXOUTFITTERS DESTINATION TACKLE PACKS
Let us know where you are headed, and we can put together a specialized tackle assortment.  Whether it be for bluegill at your favorite lake, or bass on Lake St. Clair, we can recommend and outfit you for your destination.  Special ordering available.  Email Greg Rekeweg for more details.
BASS TOURNAMENTS
ProX Outfitters is proud to be associated with the R&B Bass Circuit. Click here for tournament schedules.
Hunt
LIKE A
PRO
Have us in your sights for the hunting equipment you need to get the big one.
Come in and see our selection of rifles, crossbows, and calls. On the hunt for something specific? Just ask! We track down the best deals on your dream product and custom order it for you.
Shoot
LIKE A
PRO
Come scope us out for your target rifle and handgun needs.

FIREARMS
We are your firearms headquarters. Carrying brands such as Glock, Sig Sauer, Smith & Wesson, Colt, Browning and more.  ProX Outfitters has many sources to find the gun you have in mind.  We are willing to special order, transfer, and fill your ammunition needs.
SIGN UP FOR OUR HANDGUN TRAINING CLASS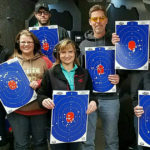 Our classes are taught by an NRA certified, professionally trained and fully insured instructor.  The instructor will provide everything: guns, ammo, glasses, earplugs, and workbook.  All the student will need to bring is themselves, their enthusiasm, and an open mind.
NEXT CLASS: TBD
About
PRO
X
OUTFITTERS
Investing in, listening to, and serving those who love the outdoors as much as we do.
ProX Outfitters has partnered with the long-time community business Schnelker Marine to bring New Haven, IN the best in fishing, hunting, and firearm products. Located within Schnelker Marine's store, ProX Outfitters exists to equip those who love to experience the outdoors. At ProX Outfitters, we believe customer relationships are infinitely more important than transactions which is why we pride ourselves in our ability to custom order, welcome inventory suggestions, and offer the best products at competitive prices.
Contact
PRO
X
OUTFITTERS
Hours: Mon/Wed: 8a-5p | Tues/Thurs: 8a-7p | Friday: 8a-6p | Sat: 8a-2p
Call us: (260) 749-8909
Visit us: 640 Lincoln Hwy W, New Haven, IN 46774
Send us a message and receive a reply within one business day: